Curried Cabbage and Sausages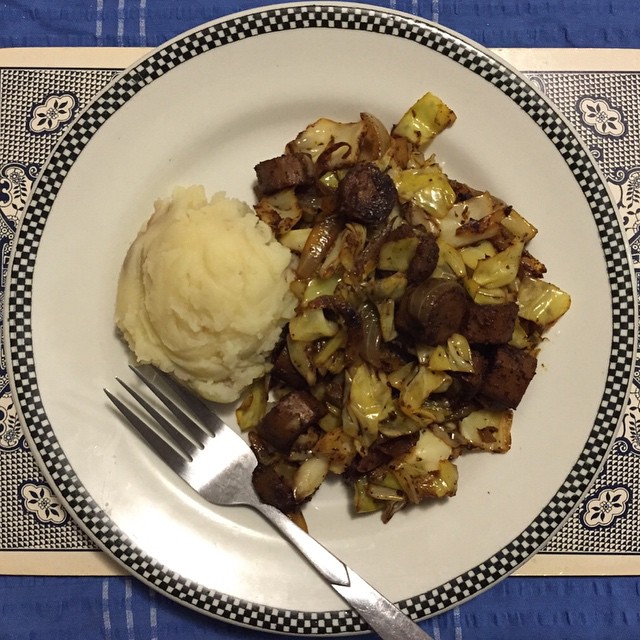 Serves 2-3

Ingredients:

1-2 tsp oil
1 onion, sliced
1 Tb mild curry paste
1/4 cabbage, roughly chopped
couple of sploshes of boiling water
4 vegetarian curried sausages, sliced into 2cm pieces

Method:

Heat the oil in a large frying pan, and cook the onion until it starts to soften and gets a little brown on the edges.
Stir in the curry paste, and cook until fragrant (about a minute).

Add the cabbage, plus a couple of sploshes of boiling water to steam the cabbage in the pan. Stir the curry paste and onion mixture through thoroughly.

When the cabbage has just started to soften and most of the water is gone, add the sausages.

Stir regularly to cook everything through evenly. It should be ready about 5 minutes after the sausages have been added.

Serve with mashed potato on the side.
Paneer (Indian Cottage Cheese)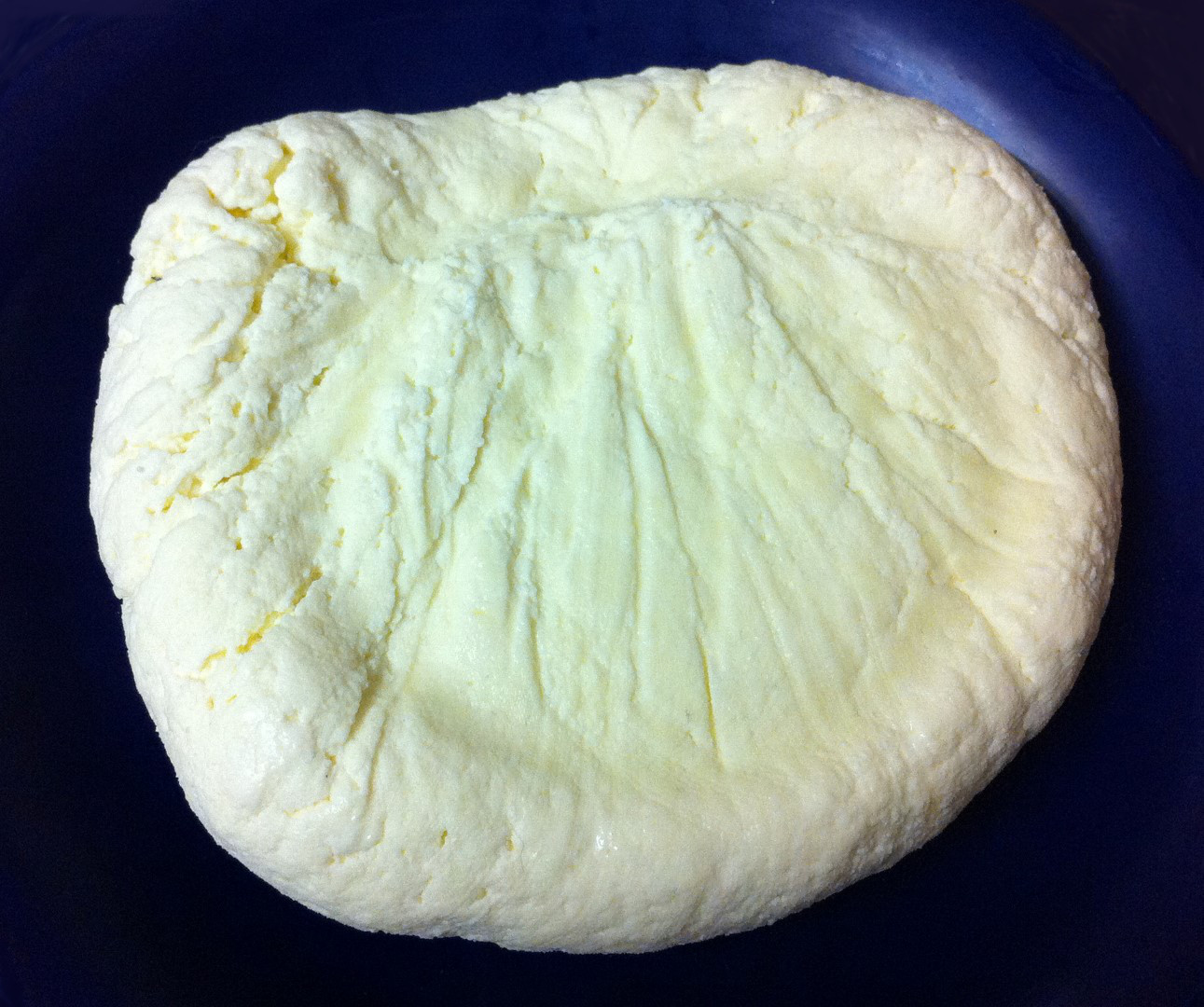 Ingredients:
1 litre full cream milk
1 Tb fresh lemon/lime juice
(Note: you may need more than 1 Tb if using a low acid lemon or a squeeze bottle)
(Note: lemon juice gives the paneer a milder flavour than lime juice)
Method:
Heat the milk in a heavy-based pan. At the point of boil, add the lemon (or lime) juice, stirring continuously until the milk curdles (the whey should be almost clear).
Leave the milk on the heat for a further 30 seconds, then remove from the heat, cover and let stand for 10-15 minutes.
Strain through a muslin cloth or clean tea towel, and squeeze out all the whey (Note: don't discard the whey if you're making a curry, as it makes a flavourful alternative to stock).
The paneer can be used as loose curds at this stage, but if it needs to be set firm then put it under a weight (1-2 kg) for half an hour - we usually use the bowl of whey as the weight.
Remove the weight and cut the paneer into desired shape and size.
Polenta with Mushrooms and Blue Cheese Sauce
Serves 2-3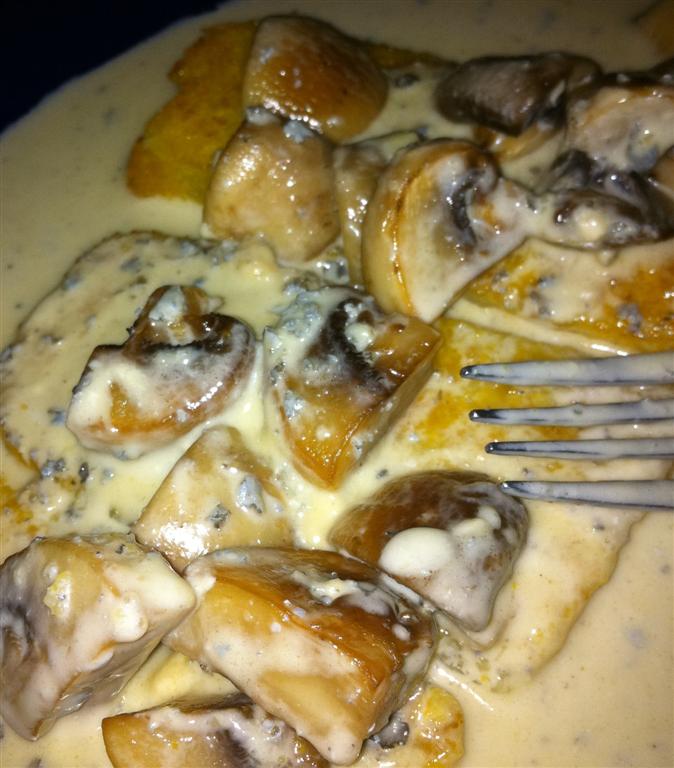 Ingredients:
250g blue cheese
300g pure cream
10-15 button mushrooms
1 package pre-cooked firm polenta (or home made)
Method:
Cut the pre-cooked polenta into 1cm thick slices, and quarter the button mushrooms. Cook them in an oiled frying pan, over medium-high heat. The mushrooms are ready when they are browned and juicy. The polenta just needs to be heated through, but it should have some colour on it from the cooking.
While the other ingredients are cooking, heat the cream in a small saucepan. Crumble or chop the blue cheese and add it to the cream. Stir over low-medium heat until the cheese has melted into the cream to form a sauce.
To serve, place several slices of polenta on each plate, scatter with the cooked mushrooms and then pour over the warm blue cheese sauce.
Easy Coconut Macaroons
Makes approx. 15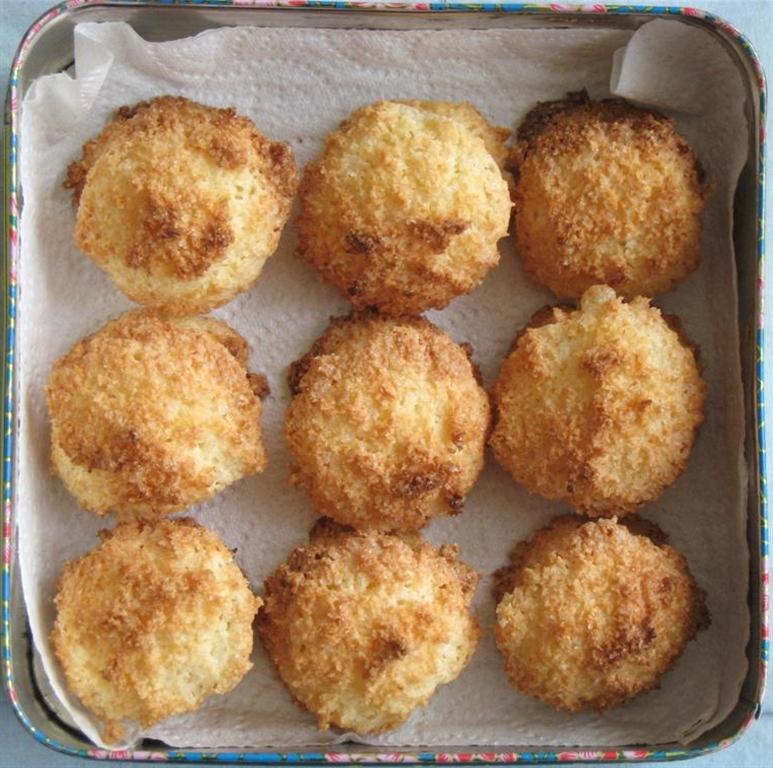 Ingredients:

1 cup coconut
1/2 cup sugar
1 Tb cornflour
1 egg
pinch salt
Method:

Combine coconut, sugar and cornflour in bowl. Beat together egg and salt, stir into dry ingredients; mix well.

Place heaped teaspoonfuls of mixture on to greased and cornfloured oven tray (or tray covered with baking paper), press mixture lightly into peaked macaroon shapes. Bake in moderate oven (180°C) for 15 minutes or until light golden brown. Remove from oven, loosen on tray immediately, allow to cool on tray.

Recipe from The Australian Women's Weekly 100 Delicious Biscuits and Slices edited by Ellen Sinclair
Walnut Meringues
Makes approx. 10
Ingredients:

1 egg white
1/4 cup castor sugar
1/4 cup brown sugar, lightly packed
1/2 cup chopped walnuts
1 tsp baking powder
Method:
Beat egg white until soft peaks form, gradually add sugar, beat until dissolved. Fold in brown
sugar, walnuts and sifted baking powder.

Drop dessertspoonfuls of mixture onto greased and lightly cornfloured tray (or tray covered with
baking paper). Bake in slow oven (150°C) for approximately 1 hour.
Recipe from The Australian Women's Weekly 100 Delicious Biscuits and Slices edited by Ellen Sinclair
Easy Beetroot Risotto
Serves 6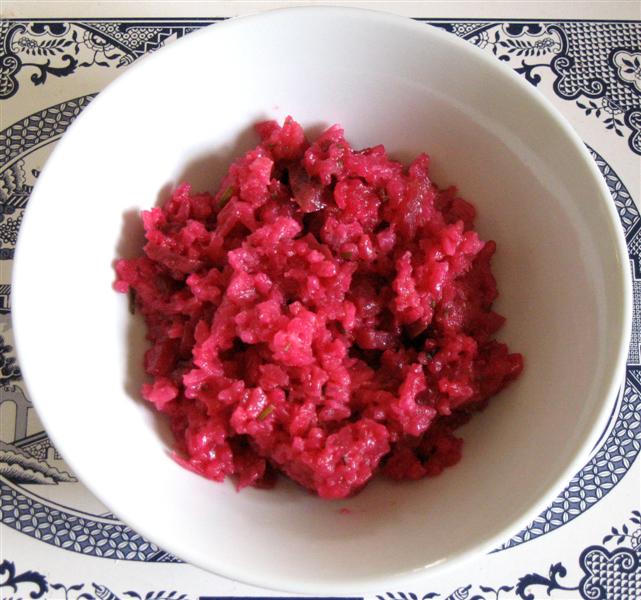 Ingredients:
1-2 Tbs olive oil
1 onion, finely chopped
2 cups arborio rice
2-3 tsps fresh rosemary, finely chopped
4 1/2 cups vegetable stock
450g can sliced beetroot
2-3 tsps fresh herbs (eg. chives, oregano, thyme), finely chopped
2-3 Tbs parmesan cheese, grated (optional)
Method:

Heat the olive oil in a large saucepan. Saute the onion for several minutes until soft. Add the rice and rosemary. Stir until the rice is coated in oil, and cook for a further minute.
Gradually add the hot vegetable stock (about half a cup at a time), stirring each time until the stock is absorbed before adding more.
While the risotto is cooking, drain the can of beetroot and reserve the liquid. Cut the beetroot into strips.

When all of the vegetable stock has been absorbed, add the reserved beetroot juice and stir until absorbed.
Stir through the beetroot strips and fresh herbs (if using dried herbs, only use 1 tsp and add them when the beetroot juice is added). Stir in the parmesan if using. Serve immediately.



Pandan Coconut Milk Jelly
Serves 6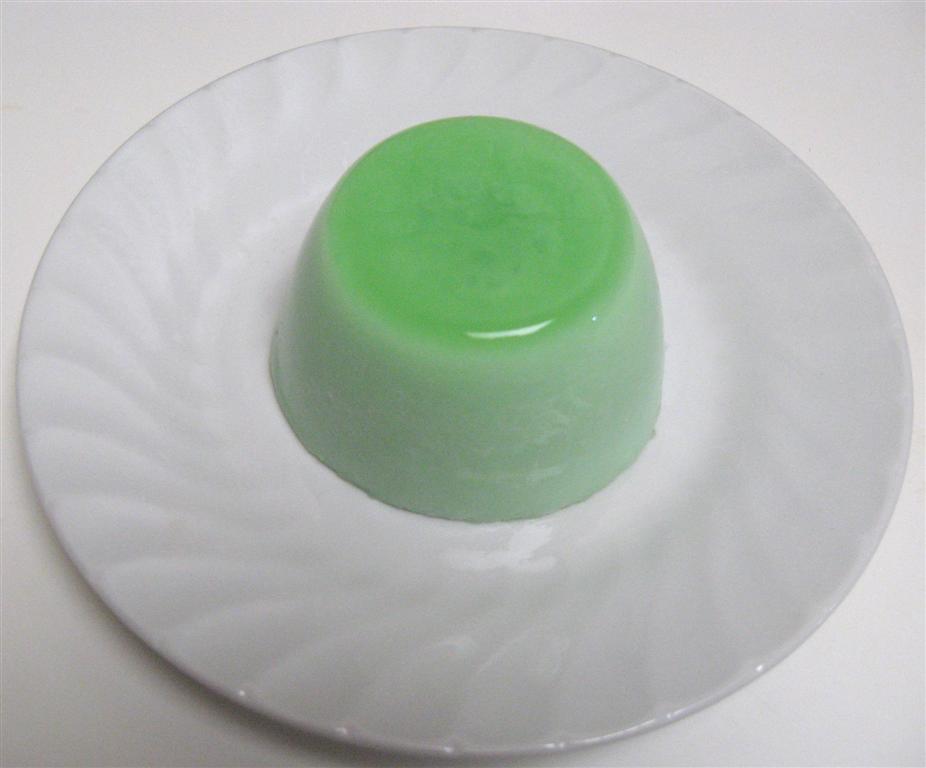 Ingredients:

150g pkt Maggi Coconut Milk Powder Mix
Enough water to make up 1 litre of coconut milk
250g white sugar
1 slurp (a few drops) pandan paste or essence

13g pkt Rose Brand Finest Agar-Agar Powder
Method:

Combine the coconut milk powder mix with warm water to make up 1 litre of coconut milk (this results in a slightly weaker coconut milk than the instructions on the packet). Add to a medium to large saucepan, along with 250g white sugar, a slurp of pandan essence (this is optional, but it really is more fun when it's green!) and the agar-agar powder.

Stir over medium heat, making sure to remove any lumps (a whisk helps). Bring the mixture to the boil, stirring regularly to prevent the agar-agar sticking on the bottom of the pan.

Pour into jelly moulds (I use individual metal pudding basins, but you could use a single large mould or a bunch of those cute little fancy moulds used for Malaysian sweets). Allow to cool for 10-15 minutes before placing in the fridge for about 30 minutes to finish setting.
Okonomiyaki (Japanese Pancake)
Serves 2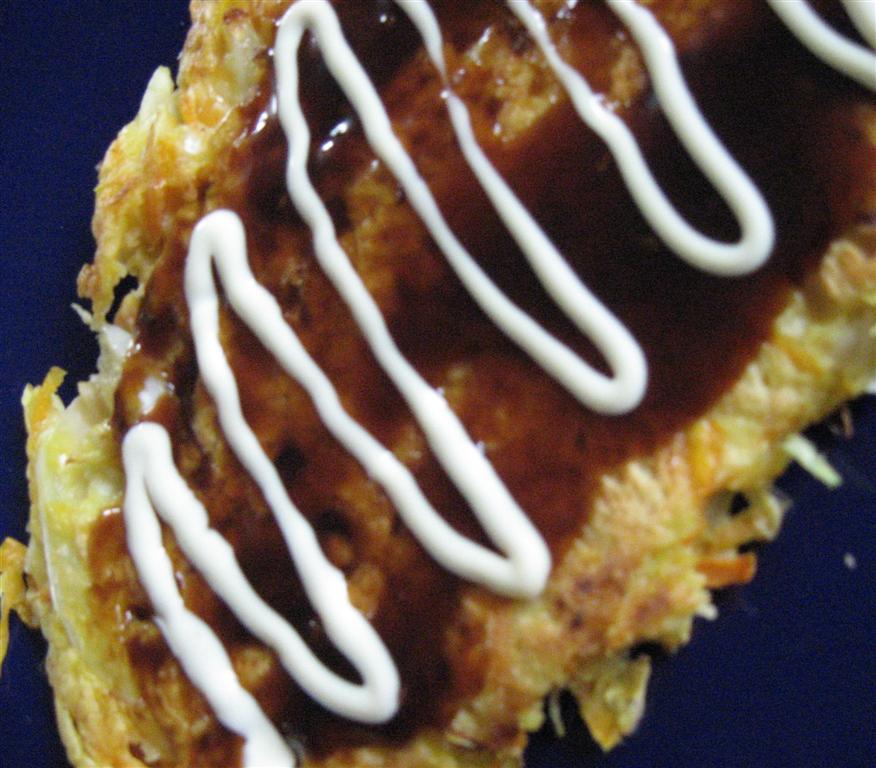 Ingredients:

125g plain flour
2 good pinches sugar
salt
~150ml cold water
1 egg
25g pickled ginger (optional)

150g white cabbage, finely shredded
1 carrot, grated
vegetable oil for frying
Sauce:
teriyaki or okonomiyaki sauce
Japanese mayonnaise
powdered seaweed or toasted sesame seeds (optional)

Method:

Sift the flour into a bowl, add the sugar and a little salt, then mix in the water, egg, pickled ginger (if using), cabbage and carrot. Heat about 1 tablespoon of oil in a frying pan. Pour in the batter mixture and spread out to a circle. Reduce the heat to low and cover the pan.

Fry for about 10 minutes until the base is golden brown. Then turn the pancake over and fry, uncovered, for a further 5-6 minutes. While cooking, cut the top in a few places with a knife to let steam escape.

To serve, turn out on to a warmed plate, spread (or drizzle) about 2-3 tablespoons of teriyaki sauce over the top, then a similar amount of mayonnaise. Sprinkle with powdered seaweed or sesame seeds if desired. Cut in half and serve.

Recipe adapted from Japanese Vegetarian Cooking by Patricia Richfield